CGDI MB software install guide and Introduction.

Step-by-step guide:
Step 1: Free download CGDI MB software
Download:  CG-MB BenzMonster V3.0.1.0
Select the latest CGDI MB software (BenzMonster_xxx_Setup.exe), double click it to download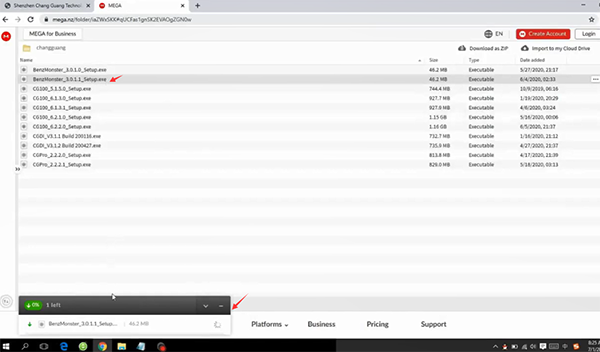 Step 2: Install CGDI MB software
After download, double click the CGDI MB application to install (The newest software is v3.0.1.1 so far)
Tips: It is recommended that you close all other applications before starting setup. This will make it possible to update relevant system files without having to reboot your computer.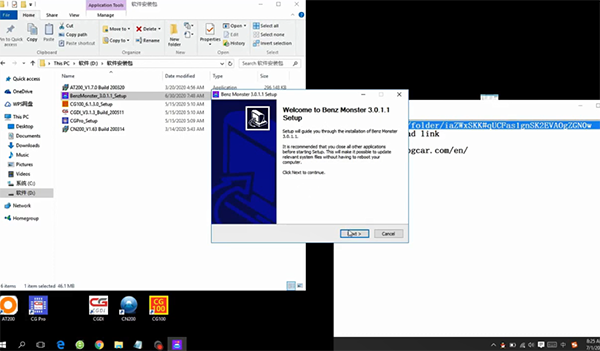 Step 3: Run CGDI MB software
Open CGMB software
Select the language you desire (English, Spanish, French, German, Russian, Turkish and Chinese)
Then follow the guide to understand the basic functions of the software.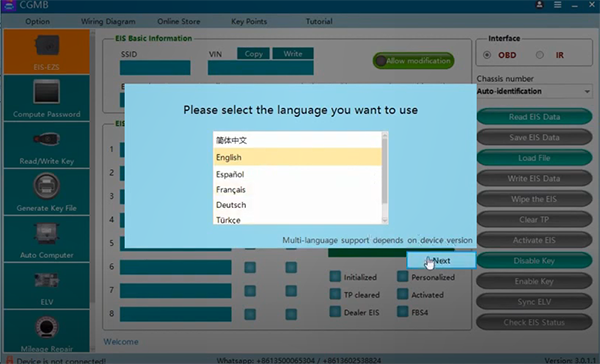 Device information:
When the CGDI prog MB is ready, you can see the current device level, points (yellow circle icon), the number of password calculation remaining today (red diamond qty), the number of key files generation remaining today (green diamond qty) and subscription service remaining days (dots icon).
Points and subscription services can be purchased at the online store.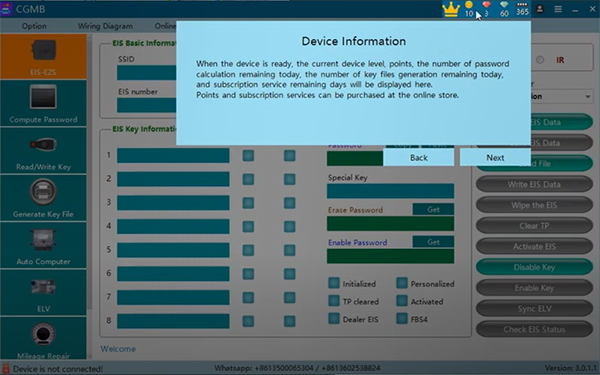 Personal account:
Click the button to open the personal account window, and you can sign in, view your account info and CGDI MB programmer bound.
If you don't have a personal account, you can create one.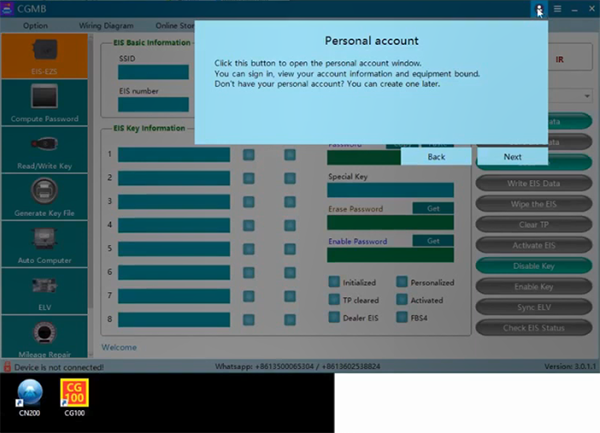 Connect CGDI mb prog with computer
If this is your first time to use, please sign up with username, password, name, phone number and email.
If you already have an account, just sign in directly.
Please follow the guide to activate new cgdi mb.
Menu:
You can send feedback, visit the customer service center, and view the update log.
Besides that, you can also perform a self-test of the simulated key, upgrade the firmware, switch language and view information.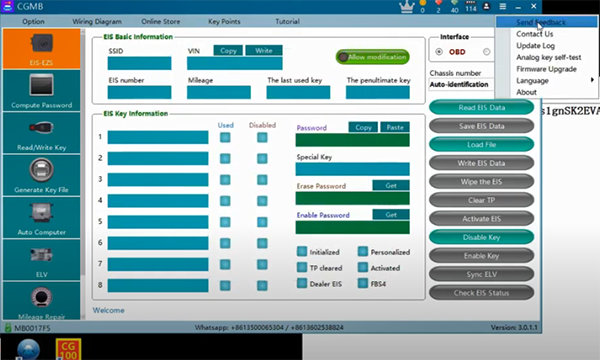 -Feedback: please offer the problems what happened with words and log or screenhot, and write SN and contact info (WhatsApp account or email)
-Analog key self-test: here you can test OBD voltage, cgdi prog mb coil power supply, reception and sent.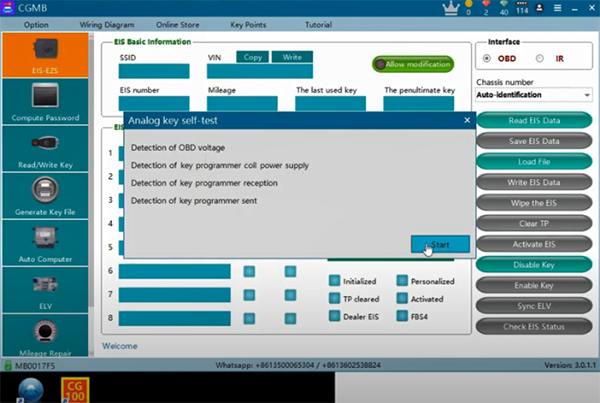 Toolbar:
Option, wiring diagram, online store, key points and tutorial are provided here.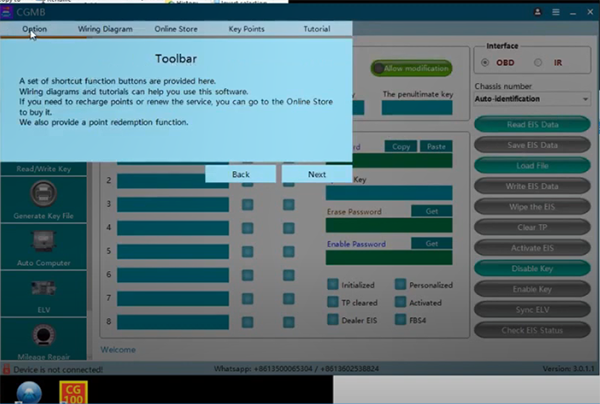 Wiring diagram and tutorial can help you use the software.
If you need to recharge points or renew the service, you can go to the Online Store to buy.
The point also can be redeemed.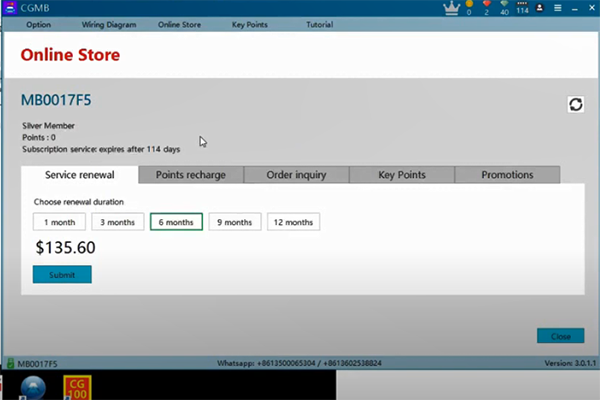 Function Toggle:
Here you can perform these functions:
EIS-EZS
Compute password
Read/write key
Generate key file
Auto computer
ELV
Mileage repair
…
Main function area:
This is the main function info display and operation area.
The prompt message and progress will be displayed below, please pay attention.
Status bar:
At the bottom of screen, you can see the device status, technical support contact info and version info.
When a new version is available, a prompt message will displayed here.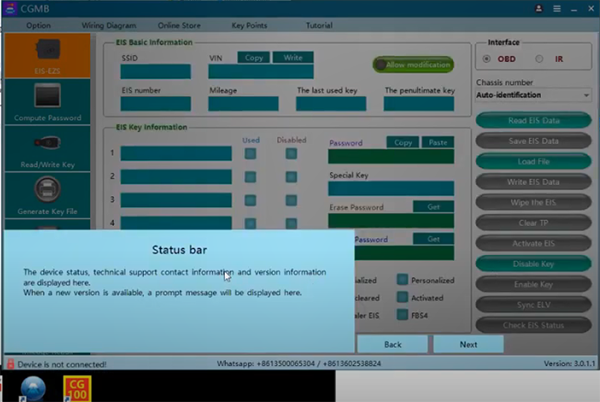 User Wizard Completed
Infrared diode hardware upgrade:
It's very hard to read the keylessgo keys and sometimes will fail to register other keys.
So recommend to change the black accessory to red one. This is free of charge.
Click CGDI MB Infrared diode operating instructions to know details.
CGDI MB More Details:  CGDI prog MB Benz key programmer