Key Cutting Machine is used to cutting and copy new keys of any type,such as auto key, household keys.Key duplicatting machine can make new key with an existing one. Some of them also support make all key lost,when you lost the keys, Laser key copy machine can duplicate new key via their database. Key cutting macihine has two types including auotomatic and manaul key duplicators with different price,the latest version can work with app via mobile device,connect by bluetooth. Is it difficult to choose a key cutting machine? No problem, here we pick the best automatic /manual key cutting machines with wide range price,to help you do the buying dicision.
Best automatic key cutting machines Review in 2021:
Xhorse Condor XC-Mini Plus Automatic Key Cutting Machine
Xhorse Condor XC-Mini Plus is one of the most powerful key cuting maichine,it support More Than 60 Global Brand,2000 car Models and 20000 all key lost database.
Features:
1.Built-in actuate database,detailed parameters, schematic sample depth key tool avaliable for users, according to the blank key data,
edit key shape, space flat, depth for making a new key data.
2.Condor XC-Mini Plus has appearance Patent Certificate, computer software copyright registration Certificate, Untility Model Patent Certificate etc.
3.Condor Mini Plus contains three powerful functions for all keys lost key databse, cut by bitting & find bitting.
4. Xhore Condor XC-MINI Plus Machine used 3-Axis precison Ball screw transmisson with higher accuracy & stability than T screw transmisson.
built-in 200V brushless motors; high rotation speed; low noise; minimal vibration; strong reliablity and great stability.
5. CONDOR XC-MINI Plus supports online update. Users can update the machina by connecting the machine to internet-connected PC, server is available 24/7 and free of region restriction for online update.
Xhorse Dolphin XP-005 Automatic key cutting machine
Xhorse Dolphin XP-005 Key Cutting Machine is new key cutting machine from Xhorse brand,and it is used on App via bluetooth,support both IOS and Android.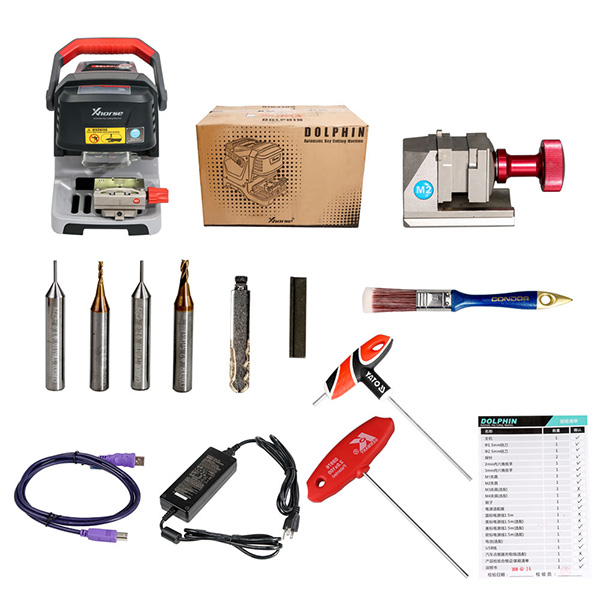 Features:
1.Build-In key database,support all key lost
2.Portability,Small and Elegant,Works on smart mobile phone application via bluetooth connection.
3.Supporting self-calibration
4.Supporting key duplication and cutting for vehicle keys
5.Supporting universal key decode for multiple key types
SEC-E9 Automatic Key Cutting Machine
SEC-E9 is an all-in-one key cutting and duplicating machine. It's embedded 8-inch tablet eases the machine use dramatically. With the built-in decoder and key reading capability, it's the machine that suitable for key duplicating as well as creating key from bitting.SEC-E9 combines the mechanical and electronic precision to guarantee unique key cutting performances and quality.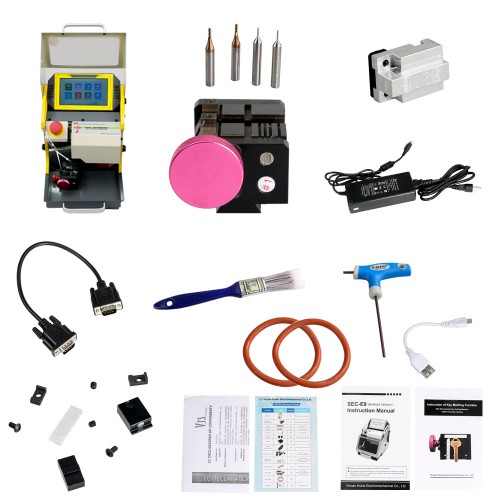 Features:
1.Android system runs smoothly and refuse automatical system upgrade;
2.One-button start, Faster boot speed,USB connection, More stable signal transmission;
3.Ball screw to drive Z axis makes cutting powerful and in high precision
4.Cross roller guided XY axis makes machine more stable and accurate
5.Embedded display screen, NO worries about stolen;
6.Massive key data, Simpler key cutting,support to cut a new key when original key is lost.
7.Simpler interface, Clear layer distribution, Easy to use;
8.Support to cut automobile keys, dimple keys, tubular keys, and single-sided domestic keys.
2M2 Magic Tank Car Automatic Key Cutting Machine
2M2 Magic Tank is an automatic key cutting machine, which can be used with APP via Bluetooth on Android system without battery.It's builded in database.
Features:
1. Milling cutter spindle brushless motor, ball screw drive mechanism, cross roller guide, aluminum alloy body structure, outer casing engineering plastic, 2 in 1 clamp
2. Mobile APP Android Control Interface, easy to operate, fast and accurate, just follow the APP prompt : No need to change the fixture for Special models
3. Global Patent Technology : when cutting Ford for M/ondeo (FO21) and Jaguar (TEB1) round key, you only need to clip the key blank once with fully automatic completion
4. With Double shaft design, 2M2 will let you avoid frequent replacement for milling cutter & needle
5. Standard fixture is a 2-in-1 fixture, which can be used for cutting the vertical milling blank and the key of the horizontal milling blank. Unnecessary to change the fixture frequently
6. 162T For Volkswagen 4 sides, only need to be clamped once, can do fully automatic four side cutting
7. Toy2 does not need special fixture, directly cut the key, other manufacturers need to install gasket fixture
Alpha Automatic Key Cutting Machine
Alpha is all in one automatic key cutting Machine,with new jaw and cutting system, better compatible with folding keys and smart card small keys, more convenient and versatile.It is the first automatic key cutting machine that support to check missing teeth of ignition lock for HU162T through teeth numbers of door lock, and vice versa, greatly improving the work efficiency for locksmith.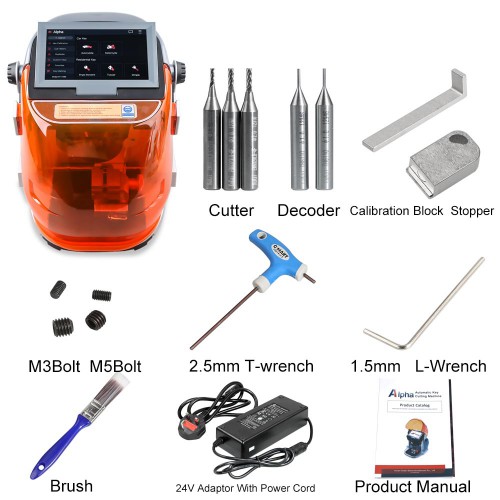 Features:
1. 7 inch industrial-grade display screen,runs smoothly
2. Support to directly cut a key by key code
3. Available Progression Function
4. Support to cut a new key when the original key is lost
5. Data search, including key blank search and IC Card search
6. Support to record key cutting history,support to create key profile
7. Upgrade by WiFi or U disk
8. Support to duplicate keys without key data in database.
Best Manual key cutting machines Review in 2020:
368A Car Household Key Copy Cutting Duplicated Machine 
368A manual key cutting machine is portable machines with horizontally moving the handle feed, It can copy various dimple-shaped, wavy, cylindrical and picture-ball key.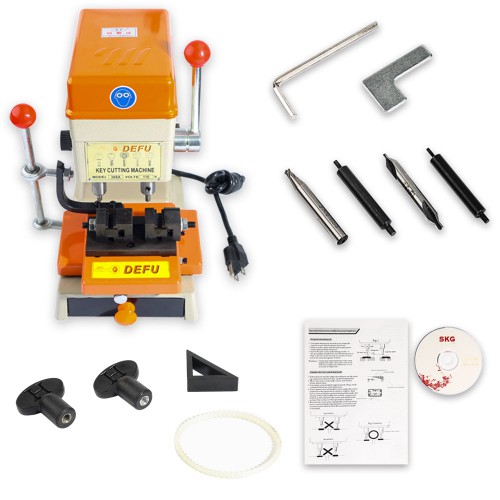 Features:
1. Multi functional practical machine, equipped with horizontal feeding movable handle
2. Multifunctional steel fixture, can copy various hollowness type,wave type,cylindrical key and key for multi lock and composite bead keys and some car keys,such as BMW,HONDA,Volkswagen car keys
3. Fixture with dark key duplication service pitch line and cylinder type key assembly function (multifunctional clamp)
4. With hardened ball bearing slide mechanism.
Xhorse Dolphin XP-007 Manual Key Cutting Machine
Xhrose Dolphin XP-007 is the latest portable manual key cutting machine
with double-side multi-function clamp and a built-in battery inside. It is powerful and compact.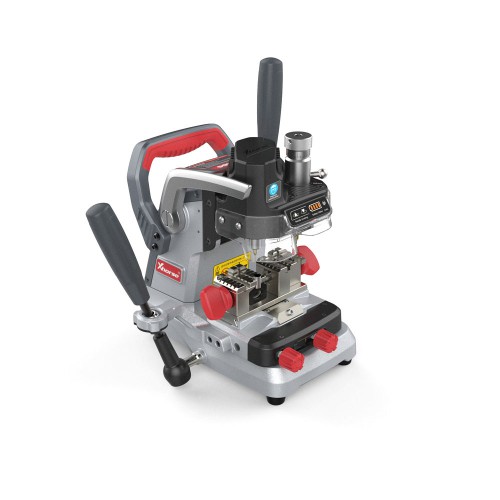 Features:
1. Attractive appearance, small and portable, ergonomic control design
2. All aluminum body structure, Manufactured by Germany-made DMG CNC machine
3. 120W DC brushless motor, designed 2 switches for adjustment speed, high efficiency cutting, support multiple materials of the key blank.
4. With micro-adjust probe, Spring preloading type fine-tuning structure, ensure cutting accuracy;With this structure it can position the original key in advance, in case the spring vibrating caused cutting error, good for accuracy
5. Optimized lithium battery of well-known brand, stable and reliable, support cutting under no power conditions
JINGJI L2 Vertical Key Cutting Machine
JINGJI L2 Vertical Key Cutting Machine is with callibration system indicated by LED light make sprecisely
cutting,cutter speed regulated to 8500rpm.
Features:
1. Straight line slide carriage makes cutting smooth and effortless
2.. Cutting depth locking mechanism makes accurate result
3.. Rmovable jaw with two grooves makes cutting more convenient
4. Vertical movement backwards makes more space to install clamp
5. Spring loaded tracer point make sperfect depth alignment
6. Structured with aluminum alloyed casting technique
7. Armrest support makes the cutting forward stable and smoot