This article show a guide on how to use TMPro 2 to program keyless continental for VW 93C86.And you can use this method to apply on VW Touareg 2009,Phaeton 2010-2011,Bentley 2014,Porsche Cayenne 2009,Audi A8 2009
Preparations:
Power Supply Unit
PCF7936 or Silca T14 – JMA TP12 transponder or original remote key
Procedures:
Remote the shell of VAG,Porsche Kessy Continental module
Then follow below connection diagram to locate the pin position
Then use the soldering iron to solder the wires as show on the above connection diagram
Connect the VAG,Porsche Kessy Continental module
Connect the TMPro2 to laptop,and run the TMPro software
Click on "Select and Read Memory Device"
Select "93c86(200)" and click OK to continue
Wait for TMPro to load data
You will see the information once the TMPro is done calculating
Now you can create you key.Just put the chosen type of key and press the button.
Then program will finish job automatically.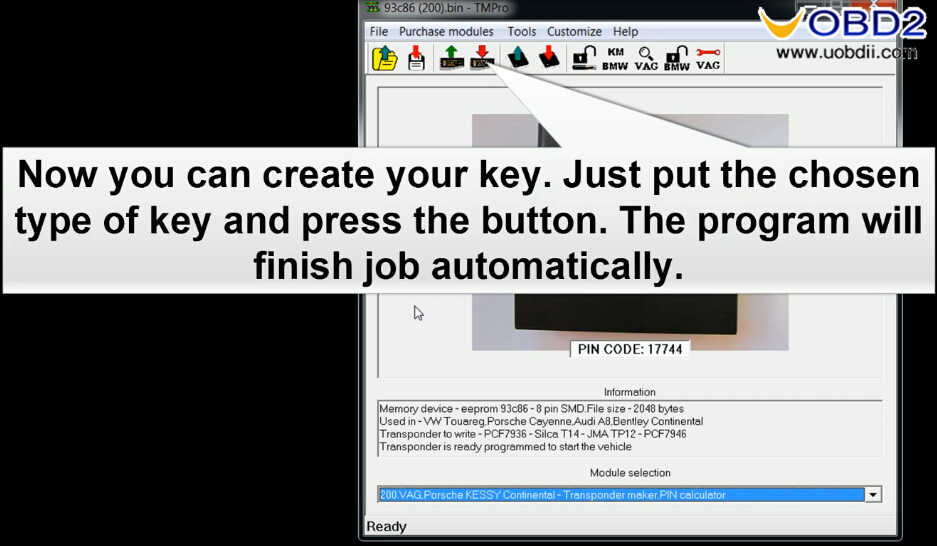 Done!