According to the survey, over 15000 Key Cutting Machines are produced and sold every year in more than 250 different model versions. This blog will introduce something types about Key Cutting Machine.
What is Key Cutting Machine?
A key cutting machine is a machine that is used to cut the unique profile of a key. There are many different types of these machines, usually based on the type of key being cut — car keys, skeleton keys, common house keys, tubular keys. Most machines work by tracing the profile of one key in order to cut a new one.
In what situation you will use Key Cutting Machine?
You have the original key and want to make a new key.
You lost your keys.
When you lost all original keys, you can make a new key by using key cutting machine.
Mainly used for keyless key which lost data.
Part 1: Different Types of Key Cutting Machine:
Automatic Key Cutting Machine
This is the most powerful key cutting machine. An automatic do most of the work by themselves, just likeV8/X6 key cutting machine and Xhorse iKeycutter CONDOR XC-MINI, though automatic versions require even less operator assistance than their semi-automatic counterparts. The operator secures the original key onto the machine with the help of a vice grip while the duplicate key is placed in another, nearby area. A stylus traces the shape of the original key while simultaneously cutting the duplicate key. Once the duplicate key is created, it's newly cut edges are brushed to remove any metal spurs. Automatic machines are more expensive and faster than semi-automatic machines.
Semi-Automatic Key Cutting Machine
To be Semi-Automatic it must have a spring mechanism that holds the key carriage against cutter and guide. This is what makes it Semi-Automatic.
Manual Key Cutting Machines
A manual key cutting machine is perhaps the least accurate of all such devices. Still, they typically work fine for common house keys and, as a result, they are often found in local home improvement stores. These machines work by clamping both the original key and the key to be cut on top of each other. This is in contrast to automatic machines where the two keys are secured in separate, but parallel locations. In manual key cutting, the operator manually operates the machine to trace the profile on the cut key, and in doing so, the machine cuts the blank key to have a matching shape.
Code Key Cutting Machines
Code key cutting machines use codes that specify the parameters of the key milling to be cut into the key. The code may be put into the machine manually, or it may be on a code card (like a credit card) that holds the details of where the notches on the key should be cut.
Laser Key Cutting Machines
A laser key cutting machine works the same way as an automatic one, except that lasers do the cutting instead of a blade. This allows dimples to be placed in the key's surface, which is necessary for many of today's higher security key entry systems. Laser machines are typically much more precise than other types.
Tubular Key Cutting Machines
Tubular machines are used when the original key has a tube shape. Some lawn mowers, for example, use these types of keys. The device traces the shape of the key and creates a duplicate pattern of notches in the end of the tube. These machines require a much more skilled operator than most others.
Part 2: Introduction about Xhorse iKeycutter CONDOR XC-MINI
Diagram: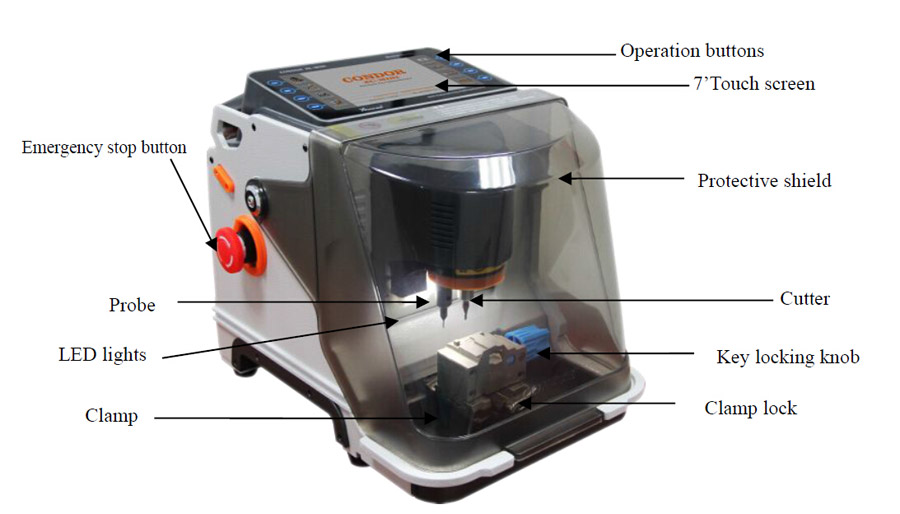 Product Features:
Built-in Database
Update Online Lifetime
3-Axis Precision Ball Screw Transmission
Cross Rail
All Aluminum Machine Body
Single machine with both Tracer/Cutter
Standardly include three clamps M1/M2/M3
Support Sided/Track/Dimple/Tibbe keys
9. Some Dimple/Tibbe keys need optional clamps
Support System Multi-languages:
Portuguese/Spanish/French/Germany/Russian/Czech/Arabic/Turkish/Dutch/Polish/Bulgarian/Norway/Slovakia/Italian/English/Chinese
How to Update iKeycutter CONDOR XC-MINI Master online:
Connect iKeycutter CONDOR XC-MINI Master to the PC with a USB cable.
Turn on the iKeycutter CONDOR XC-MINI Master.
Click "Update online" button to start update.
The screen will appear "Updating" prompt.
Wait for the update completed.
Notice:
1: Do NOT turn off PC or unplug USB cable during updating.
2: Data downloading and firmware upgrading may take a while, please be patient.
3: If the update fails, turn off anti-virus software and then try again.
Condor XC-MINI Specification:
Input voltage: 90V-264VAC
Input frequency: 47-63Hz
Consume: 200W
Package Dimensions: L450xW450xH350mm
Machine Dimensions: L265xW362xH301mm
Display: 1024×600
Spindle Speeds: 900rpm
USB: USB2.0
Working Temperature: 0-50℃
Humidity: 10-90%
Net Weight: 18Kg
Gross Weight: 22.9Kg
Condor xc mini Master Series user manual:
http://www.uobdii.com/upload/pro/ikeycutter-condor-xc-mini-user-manual.pdf