Latest Automated V8/X6 key cutting machine with High quality and Superior Technology.With Automatic V8/X6 Key Cutting Machine, you can make new keys without original key. Support battery charging, more convenient for working outside. Latest version, support keys for different car brands.
Automatic V8/X6 Main Functions:
1. It can be used with the key keyless condition, lightweight and portable, battery-powered DC electrical impulse is very suitable to go out to work.
2. It is also can according your requirement ,through the intelligent choice to make key tooth depth. Easy to use, suitable for a variety of automotive lock key.
3. USB cable data transfer, compatible with a variety of key database
4. Quick change guide pin and cutter
5. Modular design, easy maintenance (Quick Change Module)
6. English menu.
Compared with the Slica Key Cutting Machine, Automated V8/X6 has the following advantages: 
1. Competitive price
V8/X6 key cutting machine price is only 90% of Silca brand, while funcation is much better than slica's.
2. Convenient to work outside
Most key cutting machine needs to work with power adapter. Then it will have the area usage limitation, most only can work in door.  X6 with lightweight and portable, battery-powered DC electrical impulse, which is very suitable to go out to work. You can use it work in your car.
3. Wide potential market
Latest X6 version can work on many new and differnet keys for different cars in the market. Can meet the various needs for key cutting of different customers from worldwide.
4. Powerful function
X6 support make new key without original keys, and do both external milling and vertical milling. It can be make almost all kinds of keys with only one machine!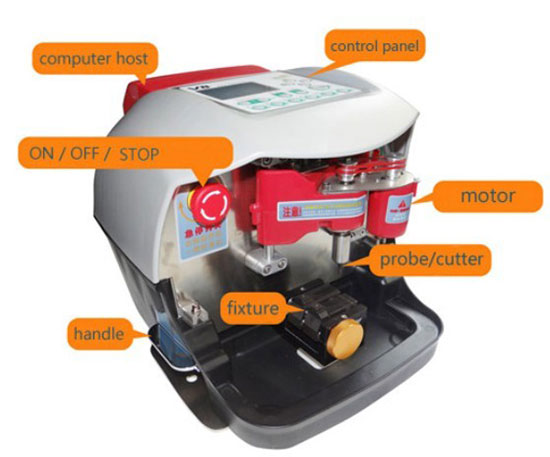 For ON/OFF/STOP button, turn right, then machine will be ON. Press this button, then machine will be stopped. Press the switch immediately if emergency happens.
Button function shown:
What situation you can make keys with this V8/X6 key cutter?
1) You have the original key and make a new key:
When you start this machine, you will see the menu, just follow the menu prompt to enter the number to read key teeth step by step. Then you will get the new key
2) You lost all keys.
When you lost all original keys, enter the appropriate number of head lock, then follow the menu prompt to make new key.
3) Mainly used have the key with keyless lost data with the key.
Automatic V8/X6 Key Cutting Machine Update: 
1) Firmware no need update. Every year it will release new Key database. Every Key database will add more key information. Such as you can find more detailed code information of key teeth based on the car brand. Then use the cutter to cut the keys easily.
FAQ  about  Automatic V8/X6 Key Cutting Machine:
Q: Can i use a laptop with the software on it and connect the x8/x6 on the laptop, from the laptop i can send the information to the key cutter?
A: Yes. It support the function you mentioned. But usually you can check the key data from the laptop. And directly cut the key from the key cutter. No need connect laptop with key cutter all the time.
Q: What is the Specification for power adapter? 110V USA or 220 EURO?
A: This one is the USA specification. You can buy a power conveter from our website or on your local area.